Autumn 4 Surprises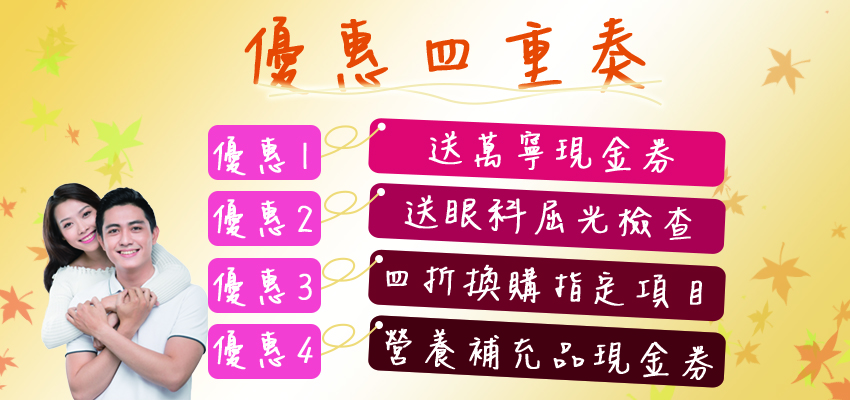 【Autumn 4 Surprises 】

Purchase the designated health plans with regular price can enjoy 4 series of SURPRISES !
1st Surprise:

Free $500 Mannings Coupon for purchasing Man/ Woman's
Supreme Plan
Free $700 Mannings Coupon for purchasing Man/ Woman's
Premium Plan


2nd Surprise: (Available while stock lasts)
Free a refraction test
3rd Surprise:
60% OFF to redeem selective items (Including Radiation Measurement, T3, Body Composition Analysis, Anti -HCV)
4th Surprise:
1 X $50 YesNutri cash coupon for every $1,000 health check. So on and so forth.
If you have any questions, please Contact 3168-8188, WhatsApp
6218-8534 or Facebook inbox

。


Terms & Conditions:

1. The promotional ends on Nov 13, 2017.

2. The promotional only apply to Man/Woman's Supreme or Premium Health Plan.

3. The refraction test can only carried out at the Jordan Branch。

4.Can collect the Mannings coupon in Mobile Medical Prestige Health Center (Mon-Sat: 09:00-13:00, 14:00-18:00) only on or before 30/11/2017.

5. Purchase each designated plan can enjoy 1 times Autumn Promotion.

6. This offer cannot be conjunction with any other promotions.

7. This offer cannot be exchanged for its cash equivalent.

8. Please contact 3168-8188 or WhatsApp 6218-8534 or Inbox our Facebook Page if you find any questions.

9. This Disclaimer has been translated into Chinese. If there is any inconsistency or ambiguity between the English version and the Chinese version, the Chinese version shall prevail.

10. In case of any disputes, the decision of the Mobile Medical Health Group shall be final and conclusive.