October Body Check Promotion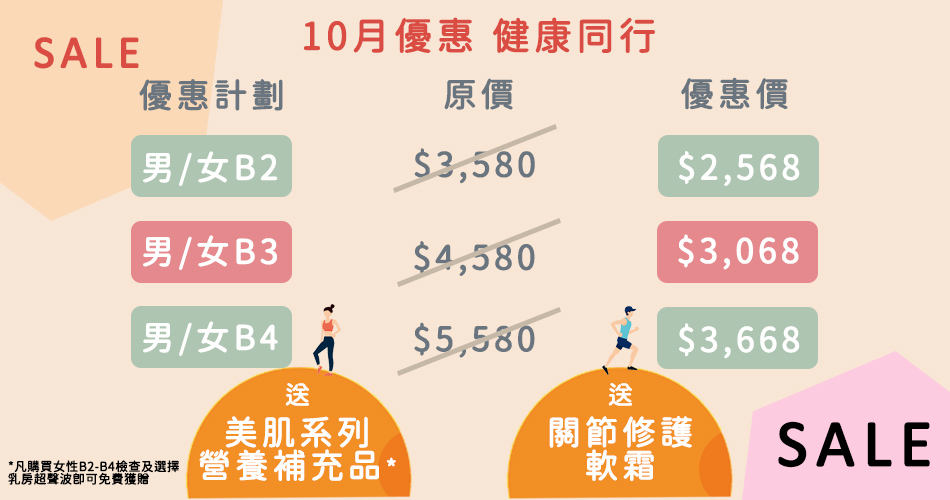 【October Body Check Promotion】

Enjoy triple benefits with purchasing designate Health check plans:
1st:Enjoy price discount when purchasing Man/Woman's B2-B4 Health Check Packages
2nd:FREE a Glucosamine Chondroitin Joints Cream (Listed Price $210) when purchasing Man/Woman's B2-B4 Health Check Package
2nd:FREE a OPC Grape Seed Extract (Listed Price $380) when purchasing Woman's B2-B4 Health Check Package and choosing ultrasound of breast
1. Man/Woman's Supreme B2 Health Check:$2,568 (Listed Price $3,580)

2. Man/Woman's Premium B3 Health Check:$3,068 (Listed Price $4,580)

3. Man/Woman's Splendid B4 Health Check:$3,668 (Listed Price $5,580)



Please contact 3168-8188, Click:WhatsApp Mobile Medical or Facebook Inbox for more information and enjoy extra discount.
*Designated Plans:

Terms & Conditions:
The promotional ends on 31 of Oct 2019.

Can collect the Glucosamine Chondroitin Joints Cream and supplement in JD Branch or KT Branch or ST Branch(Mon-Sat: 09:00-13:00, 14:00-17:30) only on or before 30 of Nov, 2019. Overdue may treat as automatic abandonment.

This offer cannot be conjunction with any other promotions.

This offer cannot be exchanged for its cash equivalent.

Amendment or cancellation is not allowed once the payment is confirmed.

Deadline of Health Check redemption: 365 Days (Starts calculating when the customers actual paid)

Please contact 3168-8188 or WhatsApp 6218-8534 or Inbox our Facebook Page if you find any questions.

This Disclaimer has been translated into Chinese. If there is any inconsistency or ambiguity between the English version and the Chinese version, the Chinese version shall prevail.

In case of any disputes, the decision of the Mobile Medical Health Group shall be final and conclusive.